| | |
| --- | --- |
| What walks downstairs, alone or in pairs.... | |
Welcome to the PhotographyCorner.com Forums.

You are currently viewing our forum as a guest which gives you limited access to view most discussions, photographs and access our other FREE features. By joining our free community you will have access to post topics, communicate privately with other members (PM), vote on contests like the Photograph of the Month and Contest Corner Challenges, upload your own photos and access many other special features. Registration is fast, simple and absolutely free so please, join our community today!

If you have any problems with the registration process or your account login, please contact support.
February 3rd, 2008, 03:59 PM
| | | | |
| --- | --- | --- | --- |
| | Elite Member | | |
What walks downstairs, alone or in pairs....
---
.... it makes a slinkety sound....
Just playing w/ a slinky last night.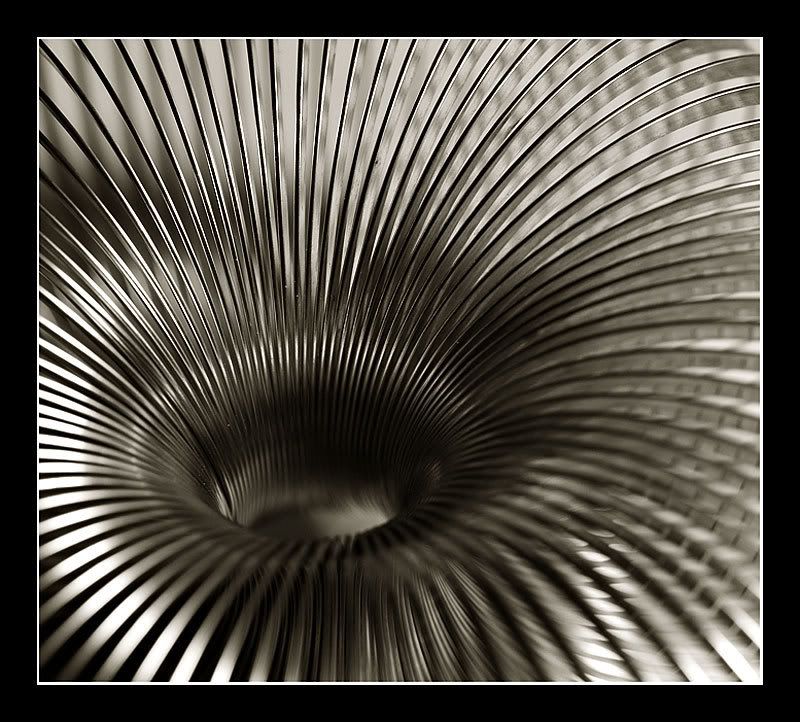 __________________
~Ubi caritas et amor, Deus Ibi Est~
Gear:
Pentax K10D
Pentax 50mm f/1.4
Pentax 77mm f/1.8 Limited
Sigma EX 10-20mm
Sigma EX 24-70mm f/2.8
Sigma EX 70mm Macro
Sigma EX IF APO 70-200mm f/2.8
www.johncountsphotography.com
Sponsors
//END Text between these comments can be edited as needed.// }?>
February 3rd, 2008, 09:36 PM
Always puts a smile on my face when i see a slinky image. Really like the conversion and composition. Well done
__________________
Jenn
A dream becomes a goal when action is taken toward its achievement.
Bo Bennett
---------------------
Yep, this is my Smug!
February 4th, 2008, 01:50 PM
Sweeeeeet shot of the slinky, love the pattern and the lighting is perfect!
__________________
A great teacher never strives to explain his vision, he simply invites you to stand beside him and see for yourself.
susanhernandezphotography
February 5th, 2008, 04:10 AM
Superb image, well captured
Nige
__________________
Nige - Still learning the art.
February 27th, 2008, 11:21 AM
I love the composition of this. It's so cool...and a bit psychedelic too.
__________________
Nicole
"If you really want to hurt your parents, go into the arts."
-Kurt Vonnegut
My blog
My Facebook page
Connect with me on Twitter @nicoleannstpaul
Currently Active Users Viewing This Thread: 1

(0 members and 1 guests)
| | | |
| --- | --- | --- |
| Posting Rules | | //END Text between these comments can be edited as needed.// }?> |
All times are GMT -5. The time now is
09:33 PM
.