| | |
| --- | --- |
| common merganser | |
Welcome to the PhotographyCorner.com Forums.

You are currently viewing our forum as a guest which gives you limited access to view most discussions, photographs and access our other FREE features. By joining our free community you will have access to post topics, communicate privately with other members (PM), vote on contests like the Photograph of the Month and Contest Corner Challenges, upload your own photos and access many other special features. Registration is fast, simple and absolutely free so please, join our community today!

If you have any problems with the registration process or your account login, please contact support.
January 10th, 2010, 07:43 PM
| | | | |
| --- | --- | --- | --- |
| | Lunatic Lensman | | |
common merganser
---
this little fella was rather obliging and came in close enough for some nice shots at the park yesterday. shortly after this shot was taken, he caught himself a nice fat little catfish, and spent the better part of 20 minutes fussing with it until he got it into position, then - gulp! - it was gone!
40D, 400mm, 1/1000 @ f/8...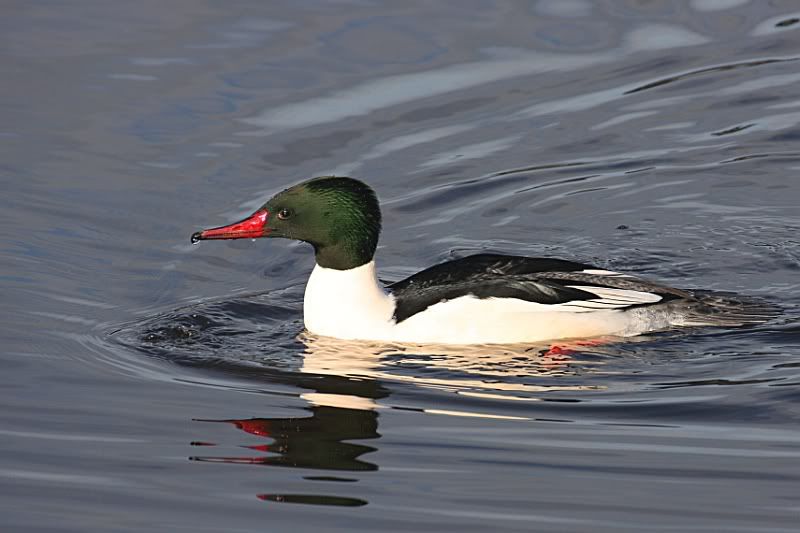 January 12th, 2010, 10:51 AM
Re: common merganser
---
This is a pretty bird. The colors are really nice and I like your composition.
__________________
Nicole
"If you really want to hurt your parents, go into the arts."
-Kurt Vonnegut
My blog
My Facebook page
Connect with me on Twitter @nicoleannstpaul
Sponsors
//END Text between these comments can be edited as needed.// }?>
January 17th, 2010, 02:42 PM
Re: common merganser
---
Even with the whites a bit flashed out, the rest of the bird and surroundings are nicely detailed and attractive. I'd love to see shots of this guy with the fish, though.
__________________
Regards,

Gail
_________________________________________

A camera lets us see past our preconceptions to capture what, for that moment in time, IS.
Currently Active Users Viewing This Thread: 1

(0 members and 1 guests)
| | | |
| --- | --- | --- |
| Posting Rules | | //END Text between these comments can be edited as needed.// }?> |
All times are GMT -5. The time now is
08:52 PM
.