| | |
| --- | --- |
| Fern | |
Welcome to the PhotographyCorner.com Forums.

You are currently viewing our forum as a guest which gives you limited access to view most discussions, photographs and access our other FREE features. By joining our free community you will have access to post topics, communicate privately with other members (PM), vote on contests like the Photograph of the Month and Contest Corner Challenges, upload your own photos and access many other special features. Registration is fast, simple and absolutely free so please, join our community today!

If you have any problems with the registration process or your account login, please contact support.
April 27th, 2007, 02:08 PM
Fern
---
Hey everyone I haven't posted in a while, I'm getting the litttle message at the top! anyways thought I would Post this and get some critiques on it. the only thing i did was a little burning and a little bit of unsharp masking.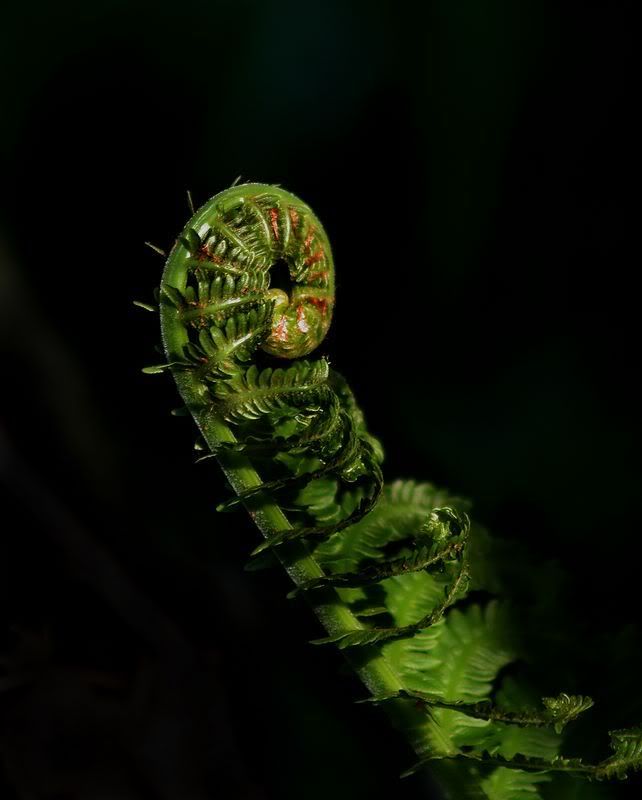 April 27th, 2007, 06:17 PM
Good to see you again, Christina. I like the contrast you got going on here...good definition in the green on black. I like the diagonal composition. I think the depth of field is a bit narrow, losing sharpness in the lower parts of the fern. Exposure is perhaps just a bit on the dark side, as you lose detail in the shadow areas of the fern where they tend to blend in with the blacks of the background. Overall though, I like what you did with it.
Sponsors
//END Text between these comments can be edited as needed.// }?>
April 27th, 2007, 08:10 PM
maybe cut off some of the top and left side, otherwise, really great photo. excellent detail and color.
beth
Currently Active Users Viewing This Thread: 1

(0 members and 1 guests)
| | | |
| --- | --- | --- |
| Posting Rules | | //END Text between these comments can be edited as needed.// }?> |
Similar Threads
Thread
Thread Starter
Forum
Replies
Last Post
Fern

wohlerperc

Miscellaneous

2

November 11th, 2008

06:00 PM

Fern

Mark99

Things

2

August 10th, 2007

12:07 PM

The Fern

carroll1

Things

7

August 13th, 2006

08:40 AM

Fern

Dozer

Things

6

August 9th, 2006

04:00 PM

Fern

Tatum

Things

3

April 4th, 2006

07:28 AM
All times are GMT -5. The time now is
12:56 AM
.