| | |
| --- | --- |
| Juvenile bald eagle | |
Welcome to the PhotographyCorner.com Forums.

You are currently viewing our forum as a guest which gives you limited access to view most discussions, photographs and access our other FREE features. By joining our free community you will have access to post topics, communicate privately with other members (PM), vote on contests like the Photograph of the Month and Contest Corner Challenges, upload your own photos and access many other special features. Registration is fast, simple and absolutely free so please, join our community today!

If you have any problems with the registration process or your account login, please contact support.
January 4th, 2008, 11:57 PM
| | | | |
| --- | --- | --- | --- |
| | Lunatic Lensman | | |
Juvenile bald eagle
---
got this shot at the park a week or so ago. this young eagle was flying around scaring the bejeebers out of the thousand or so coots that were "rafting" in the middle of the bay. he came by fairly low and close, and i managed this shot. the sky kinda sucks, but the eagle himself came out okay... not quite a sharp as i'd like, but i'm still getting the hang of the new lens... 40D with 100-400L @ 400mm, 1/1250 @ f/7.1...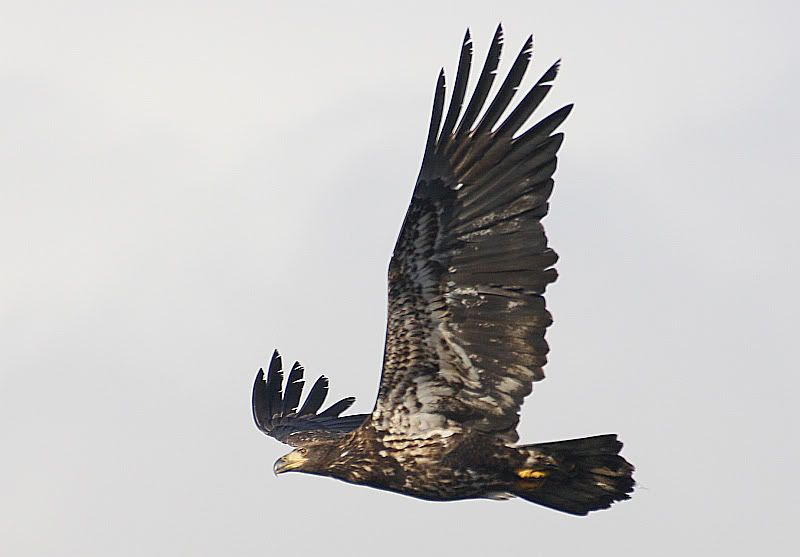 January 5th, 2008, 01:17 AM
Man! I really need to get out there and find some eagles! Nice job here Squirl. I do agree that the sky is a little bland and I think that there is some motion blur, but its still a great shot.
Currently Active Users Viewing This Thread: 1

(0 members and 1 guests)
| | | |
| --- | --- | --- |
| Posting Rules | | //END Text between these comments can be edited as needed.// }?> |
Similar Threads
Thread
Thread Starter
Forum
Replies
Last Post
Bald Eagle

The732

Things

7

February 10th, 2007

01:02 AM

Bald Eagle

The732

Things

5

February 8th, 2007

07:46 PM

Bald Eagle

katz

Things

8

December 17th, 2006

04:07 PM

Bald Eagle

Just1duckiegirl

Places

2

August 31st, 2006

08:10 PM

Bald Eagle

talsplace

Things

18

February 8th, 2006

10:05 AM
All times are GMT -5. The time now is
04:16 PM
.