| | |
| --- | --- |
| Post a pic of your 'ride' | |
Welcome to the PhotographyCorner.com Forums.

You are currently viewing our forum as a guest which gives you limited access to view most discussions, photographs and access our other FREE features. By joining our free community you will have access to post topics, communicate privately with other members (PM), vote on contests like the Photograph of the Month and Contest Corner Challenges, upload your own photos and access many other special features. Registration is fast, simple and absolutely free so please, join our community today!

If you have any problems with the registration process or your account login, please contact support.
January 4th, 2007, 04:33 PM
| | | | |
| --- | --- | --- | --- |
| | Senior Member | | |
Greetings from Colorado and my buried Equinox and Explorer! lol!!

I really just posted these for a laugh, I'll post real pictures once the snow's melted a bit.
__________________
~It's not about the expensive equipment, fancy websites or number of cameras; it's about the soul behind the lens...~

January 5th, 2007, 05:34 AM
My old mess of nuts and bolts
---
Bought my soob in 1999. Still going strong, has just clicked over 100,000km.

number plate was photoshopped.....
January 7th, 2007, 06:41 PM
Ahhhh - couldn't resist responding to this thread

I have 4 vehicles - only 2 are noteworthy. The 91 vert is an evil vehicle that introduced me to drag racing.....then I decided it wasn't fast enough. Soooooo, I found a 69 Camaro and did a little work to it - actually, new suspension, rear end, tranny, built the engine, etc, etc...until after 4 years it was finally painted.

The vert pic I took. The pics of the 69 are from the prior owner and the 'pretty one' was taken by a friend who helped paint it. While some may confess to being obsessed about taking pics, I am relatively certain no one has more pics of their car than I have of the 69....and it even has it's own 30+ chapter website of the entire build.
February 16th, 2007, 09:54 AM
| | | |
| --- | --- | --- |
| New Member | | |
Oh boy..Cars are my first love, I was born and raised a gearhead. I'm 21 and have owned 14 cars, already. 7 of which have been Fbodies (Camaros/Firebirds).
Here's the current rides:
2006 Honda CBR600RR...I LOVE this thing!!
1989 Camaro RS Built 355 + Nitrous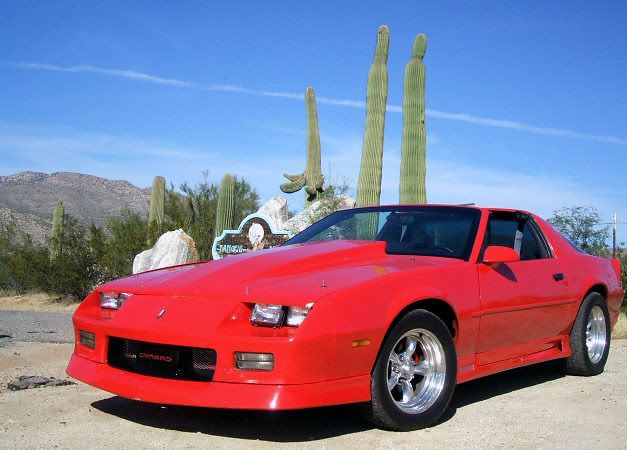 And the daily driver..1998 Chevy 1500 Pickup:
Sponsors
//END Text between these comments can be edited as needed.// }?>
February 16th, 2007, 10:41 AM
That's right, mama got the alloy wheels and the premium stereo package with subwoofer on her station wagon.
__________________
Quote:
Originally Posted by Hyacinth Bucket
"I once caught Richard playing with a frisbee. He says he found it but I've never been sure. Sometimes on sleepless nights ...I wonder, did he buy the frisbee?"
Help raise awareness about food allergies!!!
March 13th, 2007, 09:22 PM
Now for a little silk....
---
My nephew was visiting from Ontario, Canada, and needed a California fix.
This is my Toyota MR2 Spyder (I let my wife drive it).
I am relegated to drive the PT Cruiser
Phil
__________________
Canon Rebel 350D (XT)
Canon 18-55mm (kit)
Canon 28-135mm IS USM
Currently Active Users Viewing This Thread: 1

(0 members and 1 guests)
| | | |
| --- | --- | --- |
| Posting Rules | | //END Text between these comments can be edited as needed.// }?> |
Similar Threads
Thread
Thread Starter
Forum
Replies
Last Post
Here's my ride

bigkid

Things

8

August 2nd, 2007

05:08 AM

Joy Ride

aechavia

Places

2

August 30th, 2006

01:44 AM

The Ride

philwms

People

1

June 26th, 2006

08:23 PM

My Ride.

ZHeng

Things

3

May 25th, 2006

08:18 AM

The new ride :)

RobW

People

15

September 7th, 2004

03:49 AM
All times are GMT -5. The time now is
02:06 PM
.